Welcome to the Mold Removal category for the Sir Grout Western New Jersey Blog. Here you'll find blog posts related to stone and tile that we've restored. See the amazing transformations with the included before and after pictures. Feel free to share and leave your comments.
Published July 21, 2020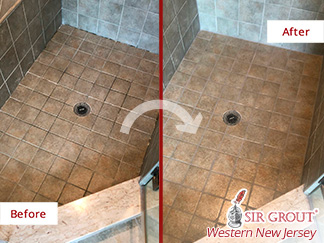 Our Grout Cleaning Experts in Basking Ridge, NJ Performed a Remarkable Job Restoring the Damaged Ceramic Floor in This Shower
Our next client, a homeowner from Basking Ridge, NJ contacted us because there was a problem with his shower. While performing regular cleaning, he noticed the condition of the ceramic floor didn't improve. He was not happy with this situation, so he tried some DIY methods he found online.
READ MORE
Published October 30, 2019
Our Professional Tile and Grout Cleaners in Hillsborough, NJ Revamped This Shower with a Top-Notch Restoration
Shower maintenance can be a difficult chore for many homeowners. For our next client, a housewife from Hillsborough, NJ, it had become troublesome. She contacted us because she couldn't improve the condition of her shower.
READ MORE